The Sentinel makes Cubase more reliable
Cubase scans your plug-ins when you launch it the first time or if you install new ones.
With Cubase 9, we have introduced the Plug-in Sentinel which scans all VST plug-ins on start-up now.
The most notable improvement of the Plug-in Sentinel is that if a plug-in crashes during the initial scanning, Cubase won't be affected and hence won't crash too. These problematic plug-ins will then end up on a blacklist.
Please note that all 32-bit plug-ins will also get blacklisted since Cubase 9 only supports 64-bit plug-ins.
All this results in a much more stable experience while using Cubase 9.

Our developers found a problem in OS X
On Mac computers, one might also observe that some plug-ins that end up on the blacklist appear to have worked perfectly fine in previous Cubase versions.
The reason is that our developers found a problem in OS X 10.11 (El Capitan) and previous versions which cause plug-ins compiled with an older Objective C Runtime version to become unstable.
Using these plug-ins causes Cubase to behave erraticly on the mentioned OS X versions. The symptoms are random hangs, crashes and very often it causes crashes when you close Cubase. For the user there's usually no visible connection that those problems are being caused by a plug-in.
With macOS 10.12 (Sierra), Apple fixed that problem from the OS side. We also work closely together with plug-in developers, so if still supported, affected plug-ins might receive an update to fix that issue on OS X 10.11 and lower.
Please ask your plug-in vendor for more information.


You can re-enable blacklisted plug-ins at your own risk

If you, however, would like to re-enable a plug-in that has been blacklisted, you can do so at your own risk.
To re-enable a blacklisted plug-in, open Cubase and go to:
Devices ▸ PlugIn Manager ▸ Blacklist
Select the plug-in which should be re-enabled and click on "Reactivate"
Confirm with "Reactivate" to continue when prompted
Be aware that re-enabling a blacklisted plug-in will cause instability.
32-bit plug-ins can't be re-enabled, since those are not supported by Cubase 9.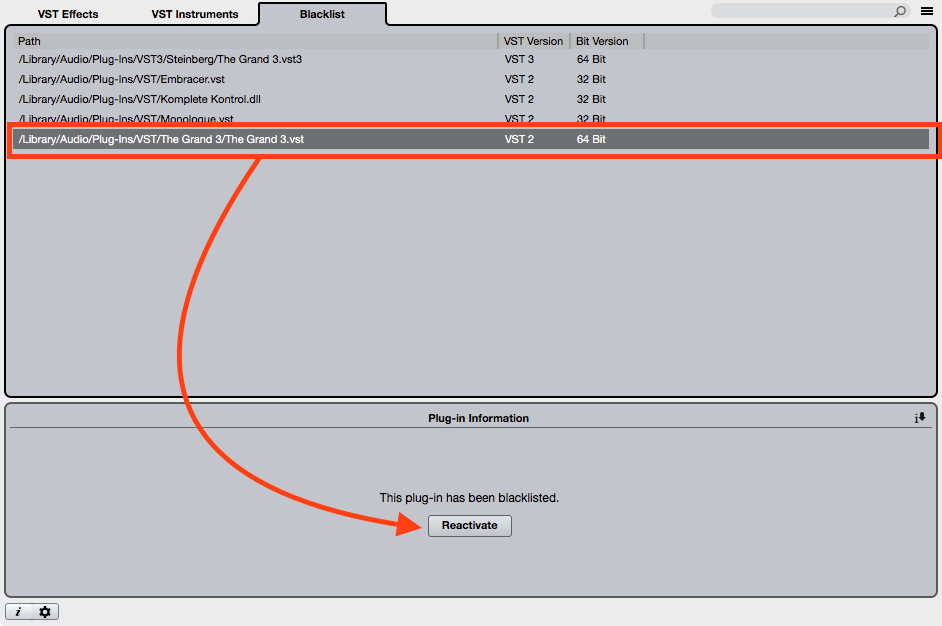 A re-enabled plug-in will then be displayed in the according list (VST Effects/VST Instruments) in the Plug-in Manager. You will easily recognize it, since re-enabled plug-ins show up in red.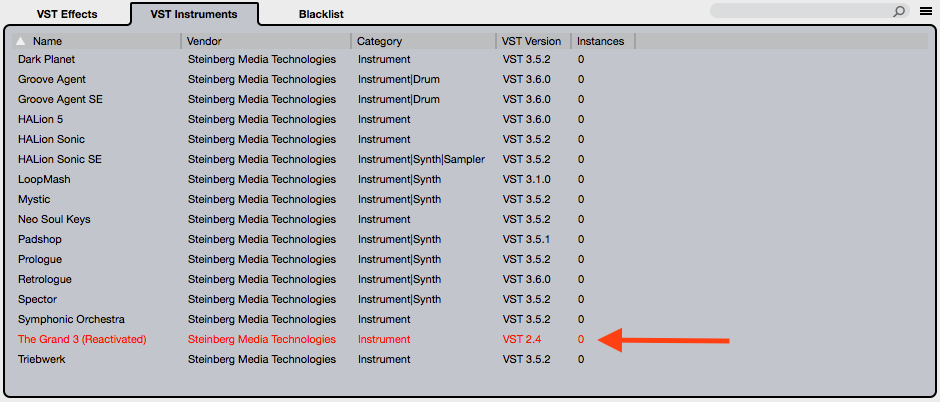 Moving plug-ins back to the blacklist
If you wish to move any plug-ins that you chose to re-enable back to the blacklist, you need to force a rescan to run the Plug-in Sentinel.
To do that, please go to:
Devices ▸ PlugIn Manager
Click on the little cogwheel icon in the bottom left-hand corner of the window to open the "VST 2 Plug-in Settings"
Click on the "Rescan all" button (twirling arrows)
Re-start Cubase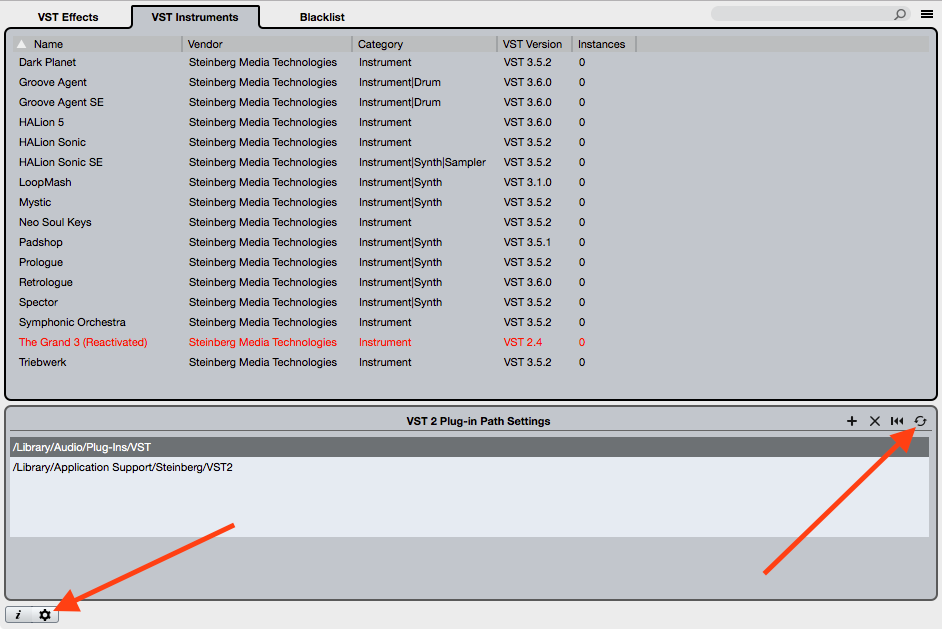 Now the Plug-in Sentinel scans all plug-ins and will put all problematic plug-ins back on the blacklist.