Cubase 12 and Nuendo 12 are the first releases to offer native support for Apple's latest SoC processor generation ("Apple silicon"). While many components Cubase/ Nuendo uses have been updated to offer native support as well, there are still some limitations in place. The most important ones are listed below.
Default mode: Rosetta
For best compatibility, Cubase 12 / Nuendo 12 uses the Rosetta mode. However, there is an issue with the option found in the Application folder→ select the app → open "Get Info" panel.
In the app info settings, you can choose whether Cubase 12 / Nuendo 12 should "Open using Rosetta" or not. After the installation, this box is not ticked. However, Cubase 12 / Nuendo 12 starts in Rosetta mode anyway.
Currently, the workaround for this error is as follows:
Tick "Open using Rosetta" (check it)
Close the Info window
Open the Info window again
Tick "Open using Rosetta" (uncheck it)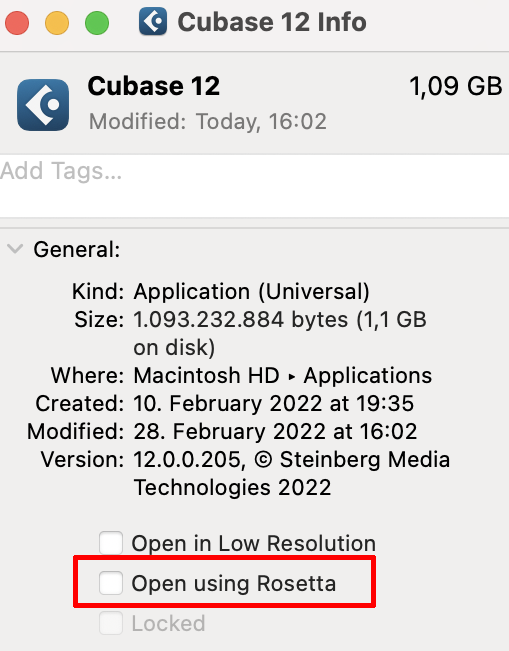 With the next start of the application, Cubase 12 / Nuendo 12 will run in native Apple Silicon mode.
You can verify the mode using the macOS Activity Monitor app. Look for the Cubase/Nuendo app and check the column "Kind":
Apple = Native Apple Silicon mode
Intel = Rosetta mode
Plug-in Compatibility
The native Apple silicon version supports VST3 plug-ins only and only if those are available as Apple silicon version, resp. Universal Binary!
Video Support
While the video engine has been updated to support Apple silicon natively and does not require OpenGL anymore, there are some limitations:
No Thumbnail track support (yet)
No DV/DVCPro video format support
No MJPEG/PhotoJPEG video format support
MPEX algorithm
The following features/functions are not yet available when running in native Apple silicon mode:
MPEX Time-stretch and Pitch-shift algorithms are not available!
When loading projects from previous program versions, where MPEX has been used as Direct Offline Process, it won't be possible to modify such processes. If you attempt to edit them, you will be asked to either make Direct Offline Processes permanent or to cancel the operation.
For time stretch, you can optionally switch to élastique time-stretch modes.