Cubase 11.0.20/Nuendo 11.0.20 introduces a new custom scaling option available under File ▸ Preferences ▸ General ▸ HiDPI Settings: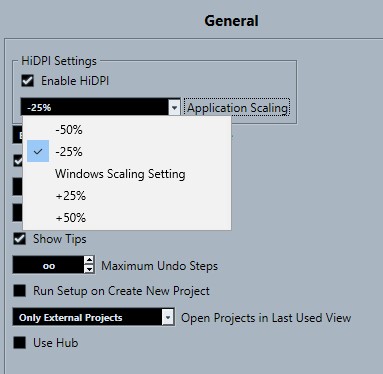 "Application Scaling" allows for selecting a scaling of the Cubase/Nuendo GUI deviating from the current Windows setting by 25% or 50%.
When using "Application Scaling", please consider the following:
The scaling option applies to all screens. It is not possible to set a different scaling for each monitor.

It is not possible to set a scaling below 100%. For example, if Windows is set to 125% and Cubase/Nuendo to -50%, the result will be 100%.

Cubase/Nuendo GUI components that are managed by Windows like the menu bar, load/save dialogues and all other Windows UI elements do not follow the "Application Scaling" set in Cubase/Nuendo.

Cubase/Nuendo needs to be restarted after applying a new scaling.