Problem
When trying to start a Steinberg program under macOS 10.14 or later for the first time, the following error message appears: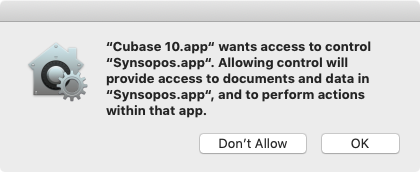 Error message, in this example after trying to start Cubase 10: "Cubase 10.app" wants access to control "Synsopos.app". Allowing control will provide access to documents and data in "Synsopos.app", and to perform actions within that app.
Reason
New security measurements have been introduced in macOS 10.14 making it more difficult for unauthorized software to control other programs.
Unfortunately, this functionality affects the communication between Steinberg programs and Synsopos.app, a crucial component of Steinberg's license management.
Without explicit permission given by the user, Steinberg programs cannot access Synsopos.app and thus license verification will fail.
See also: macOS: Steinberg program 'would like to access the microphone'
Solution
If you simply click on [OK] in the error message box, your Steinberg program will get permanent access to Synsopos.app and its license can be verified successfully. In this case, no further action is required.
However, if you already have clicked [Don't Allow], licenses cannot be verified and your Steinberg software won't run. In this case, please follow these steps:
Select System Preferences... from the Apple menu.
Open the Security & Privacy panel.
Select the Privacy tab.
Select Automation in the list of options on the left as shown on the screenshot below.
The Steinberg program that needs to access Synsopos.app should now be listed on the right.
Check Synsopos.app beneath your Steinberg program's entry.
If further Steinberg programs are listed, you might want to give them access to Synsopos.app, too.
Next time you start your Steinberg program, it will launch as usual.