Problem
The "Audio Hardware Setup" entry is missing on the "Devices" menu when using a UR28M, UR824 or the MR816 audio interface with Cubase 8.5.10 or later.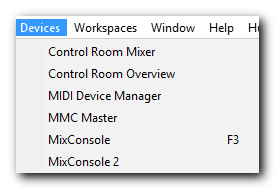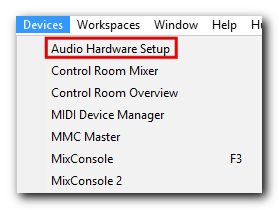 Cause
If the initial dialog on Cubase start-up to select an ASIO driver is dismissed with the "Please, do not show again" checkbox, there is not enough time for a proper initialization of the driver. This is because of a changed timing in Cubase since version 8.5.10 that only affects the above mentioned devices.
Solution/Workarounds
In "Devices" > "Device Setup" > "VST Audio System", please switch the ASIO driver to something else than the Yamaha Steinberg USB driver and back again.
The dialog will now be shown until quitting Cubase completely.


The "Audio Hardware Setup" dialog can always be accessed by clicking on one of the icons in the "Hardware" section of the Cubase MixConsole window (see image below).

                                                  


Last but not least, keeping the intial ASIO Driver setup page to show on every Cubase start (leaving "Please, do not show again" unchecked) will allow the driver to load properly. The "Audio Hardware Setup" will show up right away then.