Problem

After starting to record a few tracks simultaneously in Cubase or Nuendo on a Windows computer that has been optimized for audio processing, the recording aborts just after a few seconds and the following error appears:
'Recording Error: Too many tracks recording'
Possible causes
In many cases, 'too many tracks' errors occur when the hard disk performance is limited. This could be due to a bad system configuration or simply a drive damage (that could announce a complete failure in the near future). Even heavy vibrations, for example when placing a laptop on a speaker cabinet, can affect hard drives to the point that it is not possible to record safely.
Graphics drivers are another possible and completely different reason for 'too many tracks' errors. Particularly drivers for some NVIDIA video cards can include optimizations for gaming or physics engines that might impact negatively on the capability of the VST audio system to handle the audio processing in real-time.
Solution
Verifying disk issues
It is recommendable to rule out hard disk related problems first. An easy way to do that is to create a new project on a different hard disk (for example an external drive) and run some recording tests. Additonally, you might want to copy one of the affected projects to the test drive. If the 'too many tracks' errors still occur on the test drive, it probably is not a disk specific issue. If recording on the test drive succeeds flawlessly, you need to check the problematic hard disk carefully, for example by using diagnostic tools. Hard drive manufacturers often provide such tools.
Adjusting graphics drivers settings
If the problem doesn't seem to be related to the hard disk, the graphics card driver might be involved. At first, make sure you have the latest driver installed. If it is up-to-date, have a closer look at the control panel of your graphics card driver.
Obviously, driver settings depend on the manufacturer, the graphics card model and the driver version. But a general rule, options that boost graphics/gaming performance can be suspected to interfere with real-time audio processing. Try if switching off high/ultra performance modes, overclocking, high-resolution textures/polygon/shader options etc. solves the issue. Restarts might be required and probably some trial and error efforts.
When using a NVIDIA graphics card, it might be necessary to perform a clean installation of the main NVIDIA driver without the extended gaming and physics/rendering optimizations:
Close all programs.
Download the latest drivers for your graphics card here.
Run the downloaded installer and follow the instructions to start the installation.
Under 'Options', choose 'Custom (Advanced)' and click on 'Next'.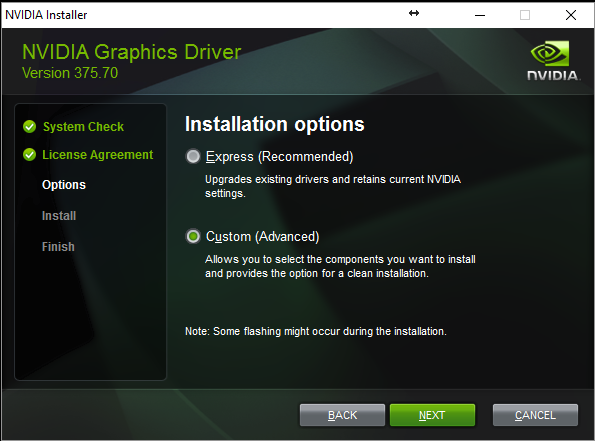 Once the installation options appear, disable all additional driver components.
Optional, but recommended: Enable the option 'Perform a clean installation'.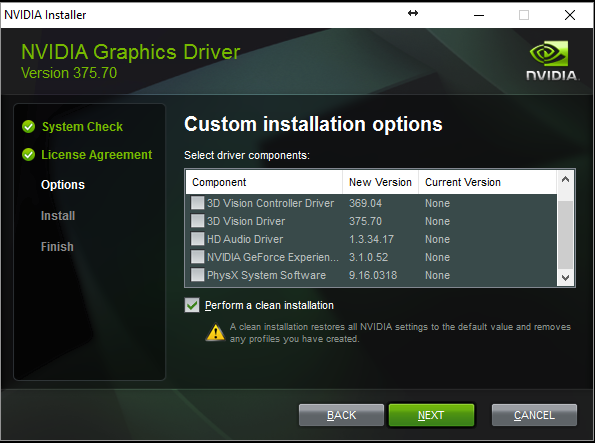 Wait for the installation to complete and restart your system.