Issue
"Video service is currently not responsive" message appears and the video service stops working on Mac OS X. This can happen on loading projects, switching sample rates or on closing Cubase or Nuendo.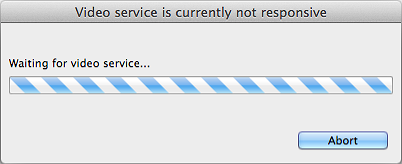 Solution
Video engine issues might be caused by Flip4Mac, a codec collection that adds WMA and WMV support to QuickTime. If Flip4Mac is installed on your system, please have a look at this help center article.
In case you are using Cubase 8, please make sure you have installed the latest version (Cubase 8.0.40).

Background information and workaround for older versions
This error can be caused by an "Aggregate Device" which has been configured in the Mac OS X "Audio Midi Setup" to combine several audio interfaces to one device. Please either remove this aggregate device to avoid the above error or check if the file "DVCPROHDMuxer.component" is on your system.  It needs to be removed from the folder /Library/QuickTime  (the root of the OS hard drive, not the Library in your System or user folders!) 
This file could have been installed by various applications like QuickTime Pro, Final Cut Pro, older versions of Logic, Compressor or Shake.
Please note that moving the above mentioned file is only a workaround that should address this error most of the time. However, be aware that other applications may need the "DVCPROHDMuxer.component" to work properly! So please do not delete the file and move it back to its original location if errors in other applications appear.