This article deals with how to use a Steinberg MR816X/CSX as a slave device connected via ADAT to a master device.

In this scenario, a 'master' device is connected to the compute while the MR is used as a 'slave' stand-alone unit. We will use ADAT / TOSLINK cables to send the signal from the stand-alone MR device(s) to the master device.
Install the latest TOOLS for MR.
Connect your MR interface to the computer
Open the DspMixFx
Configure the ADAT pairs to output the signal received from the respective MIC inputs:
    Click on ADAT 1-2
    Pan MIC 1 and 2 hard left and hard right
    Mute the other MIC channels
Proceed in the same fashion for all ADAT pairs and correspondent MIC inputs as per the colour code in the screen-shot below.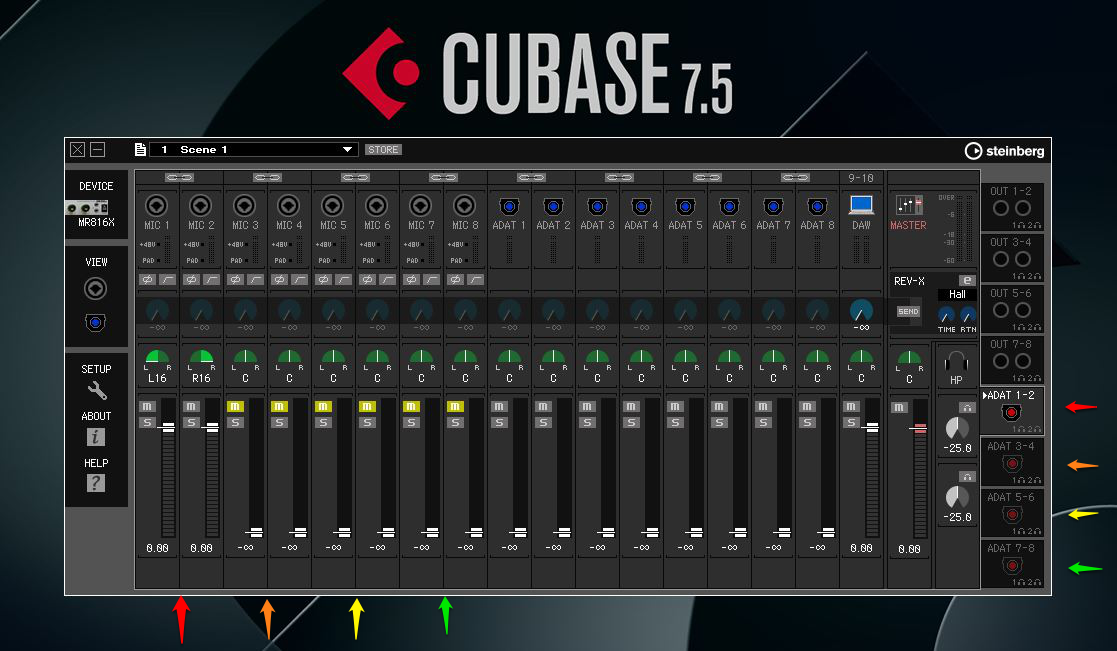 Once set up, please close the MixDspFx, the current configuration will be saved.
Now, please connect the master device to the computer
Connect the ADAT/TOSLINK cables from ADAT OUT on the MR to the ADAT IN on the master device
You can either use the BNC-connector or ADAT for Wordclock synchronisation of the devices
Now you need to create the proper VST Connections (F4 or Devices -> VST Connections) in Cubase.
Create the desired amount of input tracks and assign them as needed, the analogue MR inputs will be available as the master device ADAT In.