Problem
On macOS 13 (High Sierra) or newer, an audio interface cannot be selected in the DAW (Cubase, Nuendo or any other audio application) and does not appear in the Audio MIDI Setup of macOS, even though the latest driver has been installed.
Background
With macOS High Sierra, Apple introduced a security feature named "User-Approved Kernel Extension Loading" which requires user approval before loading a new third-party kernel extension. This affects audio interface drivers that make use of kernel extensions.
A kernel extension must be approved during the first installation of the corresponding driver. For example, when initially installing the Yamaha Steinberg USB, Thunderbolt or Firewire driver or any 'TOOLS for...' software package including a driver, the following warning messages appear: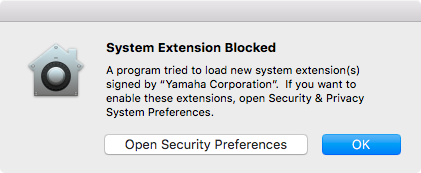 Warning message: System Extension Blocked


Warning message: Yamaha Steinberg * Driver Blocked.

If user approval is missing for some reason, the driver will not be loaded and the corresponding audio interface is not available in any DAW and the "Audio MIDI Setup" in macOS.
Solution
Go to System Preferences... (Apple menu), open the preference pane "Security & Privacy" and make sure the "General" tab is selected.
If there is a message informing on blocked system software from the developer of your audio interface, click on the pad lock at the bottom left first. Then click on the [Allow] button to approve the kernel extension resp. driver.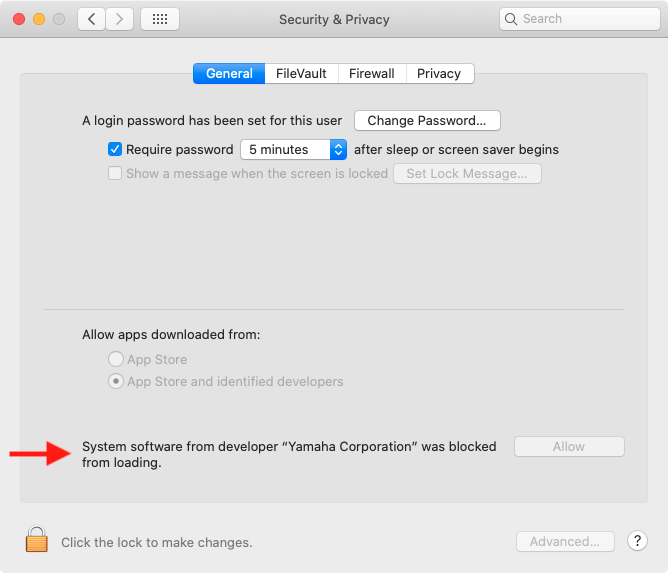 Please note that the approval option is only present in the Security & Privacy preferences pane for 30 minutes after the alert. Until you approve the kernel extension, future load attempts will cause the approval option to reappear.
In case the user approval option cannot be brought back, try if it can be made available again by restarting the system. If not, please reinstall the affected driver properly.
The following instructions on how to reinstall the driver refer to Yamaha Steinberg hardware.
Disconnect your audio interface by unplugging its cable.
Download the latest software for your audio interface:
https://www.steinberg.net/en/support/downloads.html
Run the uninstaller included in any download for Yamaha Steinberg hardware for macOS (for example, "Uninstall Yamaha Steinberg USB Driver.app").
The uninstallation requires a restart.
After the uninstallation has been completed, reinstall the Yamaha Steinberg driver or the "TOOLS for..." application.
Make sure to follow the instructions to allow the "System software from developer "Yamaha Corporation"" to be loaded in the System Preferences .
Only after the installation has been completed, connect the audio interface again.