Problem
Installing the Yamaha Steinberg USB driver (V1.9.10-2 or later), the Yamaha Steinberg Firewire driver or any of the TOOLS including the drivers for the first time will display warning messages: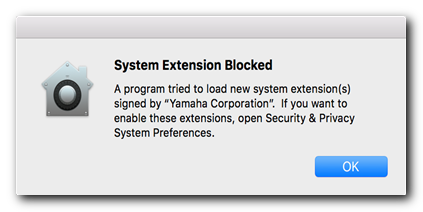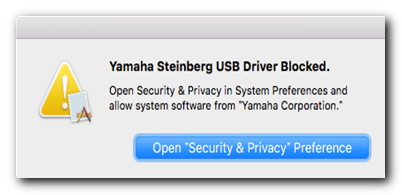 If the driver is not allowed to run on the system, the hardware device cannot be selected in Cubase or the "Audio MIDI Setup" in macOS.
Cause
With macOS High Sierra or later, Apple has changed the specifications and enforced the security settings. Installing a third party kernel extension will display the messages shown above now.
Solution
Open the "Security & Privacy" preference in macOS and allow system software from Yamaha to be loaded.
Please note that the option disappears after 30 minutes into the operating system session. It may be necessary to restart the system to be able to access the setting again.