With Cubase 9.5 we have introduced internal 64-bit processing, also known as "double precision".
That is, all channels are being processed and mixed in 64-bit floating point instead of previously 32-bit.
By default, Cubase 9.5 will continue to use 32-bit precision. You can change to 64-bit processing precision in the "Studio Setup" > "VST Audio System" > "Processing Precision"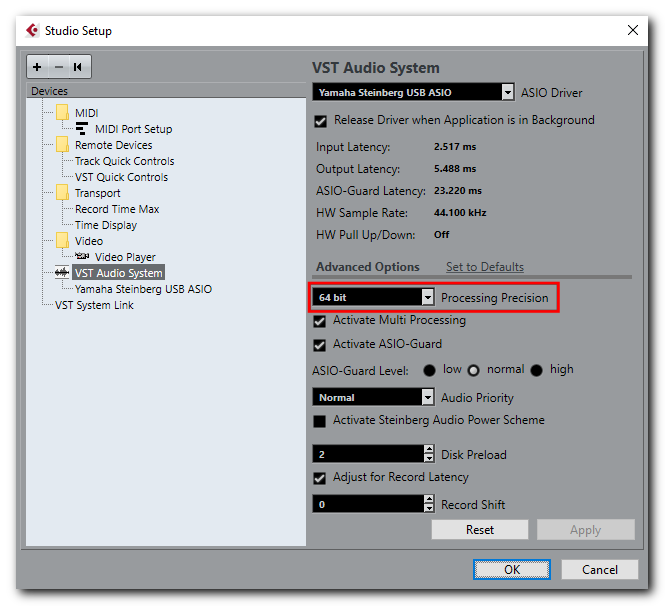 64-bit processing precision can increase the CPU load and memory consumption!
Plug-in support for 64-bit processing precision

VST3 plug-ins supporting 64-bit processing will be running with 64-bit processing precision automatically. Plug-ins (and instruments) not supporting 64-bit processing will be processed with 32-bit precision (as before), while all the "surrounding" processing on the channels will be done with 64-bit processing precision. Most of the included plug-ins in Cubase - and of course the Channel Strip effects - will run with 64-bit precision.
In the Plug-in Manger, you will find an option to display only the plug-ins that support 64-bit processing in the pop-up right beside the search field.

Selecting that option requires scanning all installed plug-ins to detect the ones which report 64-bit processing capability. You could use the resulting list to create a dedicated plug-in collection only containing 64-bit processing plug-ins.
Please keep in mind: 
Double precision processing is not available for VST2 plug-ins!
Whether a VST3 plug-in or instrument supports 64-bit processing precision is up to the manufacturer of the plug-ins. Some manufacturers advertise an internal (!) 64-bit processing for their plug-ins but still do not support a complete audio processing in 64-bit double precision throughout the whole signal path.