What does Activation mean?
Any Steinberg software needs to be activated by downloading and storing the required license.
The Activation is done in the utility eLicenser Control Center that is being installed along automatically. After entering an Activation Code, the license will be downloaded and stored either in the Soft-eLicenser - locally on hard disk - or on a connected USB-eLicenser (dongle).
The Activation via Activation Code will be automatically performed when you redeem a Download Access Code in the Steinberg Download Assistant. Download Access Code FAQ

This tutorial video shows the Activation process by a practical example.
How do I get my Activation Code?
Activation Codes can have different sources:
How to use Activation Codes
The following instructions outline the Activation - thus the download of a license by entering an Activation Code in the eLicenser Control Center - in detail.
The required actions step-by-step:
Install your Steinberg software.
Install the latest update if available in the Steinberg Download Assistant or on our download pages.
Some installers allow for including updates during the installation.
Open the eLicenser Control Center. You will find it under 'Program Files' (Windows) or 'Applications' (Mac OS X).
Apply the 'Maintenance & Online Synchronisation' by clicking on 'Perform Maintenance Tasks' (or click on the 'Maintenance' button at the top right if not shown).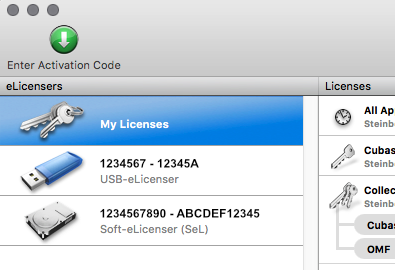 USB-eLicenser and Soft-eLicenser in the eLicenser Control Center
Activation with USB-eLicenser


In case your software requires an USB-eLicenser or if you want to use one, make sure the USB-eLicenser is connected and displayed by the eLicenser Control Center. If the USB-eLicenser appears to be missing, please click here.

Activation with Soft-eLicenser


If your software does not ask for an USB-eLicenser, the license will be stored in the Soft-eLicenser which will be represented by a hard disk symbol on the left side under 'eLicensers'. If the Soft-eLicenser appears to be missing, please click here.
If the required USB-eLicenser or Soft-eLicenser is displayed, click on the green button [Enter Activation Code] at the upper left of the eLicenser Control Center.
Enter Activation Code. Of course, you can also copy and paste the code into the input field. The Activation Code must not have been used before.
Click on [Continue] and finally on [Download License] to complete activation.
As soon as the license has been downloaded, it will appear in the right column of the eLicenser Control Center under 'Licenses'. Now the activation is complete. You can use your software now.

If you have further unused Activation Codes, simply repeat the steps accordingly.
Further information
During the activation, licenses that are usually stored in a Soft-eLicenser on a hard disk can alternatively be stored on a connected USB-eLicenser.
Licenses that already have been stored in a Soft-eLicenser still can be transferred to a USB-eLicenser. In this way, a license can be made portable and also be made usable on computers without internet access.
Read more on transferring licenses ...
If you experience difficulties during the activation, you will find helpful information in these knowledge base articles:
USB-eLicenser help/FAQ | Soft-eLicenser help/FAQ
If you cannot solve an activation or license problem, please refer to our support team via the Contact page. Please describe the issue as detailed as possible and, if applicable, name the Activation Code you've tried to use.
Glossary
Activation Code
An unused Activation Code is equal to a not yet used software license. Newly purchased Steinberg software always comes with an Activation Code - online by email or inside the product box. The corresponding license can be downloaded to activate an installation by entering the Activation Code in the eLicenser Control Center. In general, Activation Codes can only be used once.

eLicenser Control Center
The eLicenser Control Center is a license management utility. It will be installed along with any software that stores its license in a Soft- or USB-eLicenser. The eLicenser Control Center can be accessed via 'Program Files' (Windows) or 'Applications' (Mac OS X). Among others, it allows for verifying licenses stored on a Soft-eLicenser and/or connected USB-eLicensers.

MySteinberg
MySteinberg is the name of the customer section on our website. Here you can create your own account and manage your Steinberg hardware and software registrations. If needed, you can also request new Activation Codes via the 'Reactivation' process in MySteinberg.

Soft-eLicenser
A Soft-eLicenser is a virtual license container on hard disk. In other words, it is a locally stored file that holds license information. Licenses stored in a Soft-eLicenser are bound to a specific computer.

USB-eLicenser
An USB-eLicenser is a USB key (dongle, key) on which licenses can be stored independently from a specific computer. Licenses on an USB-eLicenser are not affected by, for example, reinstalling the operating system and allow for using the licensed software on mutliple computers.