Reactivation
This page is about reactivating software licenses that have been stored locally on hard disk in the so called Soft-eLicenser.
Licenses on a USB-eLicenser (dongle, key) cannot and don't need to be reactivated. If the USB-eLicenser holding the corresponding license is connected, the licensed software can be used right after the installation.
What is a reactivation?
Reactivation means further activation of a software license that already has been activated before. A reactivation takes place after a new installation and consists of two steps:
Requesting a new activation code for a registered license via a MySteinberg account.
Activating the software license which means downloading the license by entering the new activation code in the eLicenser Control Center on your computer.
Why is it necessary to reactivate licenses?
Reactivations are required because in general, activation codes can only be used once to download a software license. If a further activation of a new software installation is necessary - for instance, in case the operating system has been reinstalled or you've switched to a new machine - new activation codes for licenses registered with a MySteinberg account can be requested via the reactivation process.
How to reactivate step by step
Install your Steinberg software on the new system.
Verify online, if updates are available and install them where required.
Some installers allow for including latest updates during the installation.
Log in to your MySteinberg account.
Make sure you are on the "Products" page.
Click on [Show eLicenser-based products].
On the new page, click on the [Reactivate] button at the top left.
A list of all registered licenses that can be reactivated appears.
Select the Soft-eLicenser containing the license to be reactivated.
Only registered licenses can be reactivated!


If you cannot find the license you need to reactivate please click on the button [Register eLicenser / Software] on the top left, to register your software.
Among others, you can apply the already used activation code for registering a license.

Licenses on USB-eLicensers cannot and don't need to be reactivated!


If a USB-eLicenser or a license stored on an USB-eLicenser cannot be recognised, please note the instructions in this help article: USB-eLicenser/Steinberg Key - Details, Tips and Troubleshooting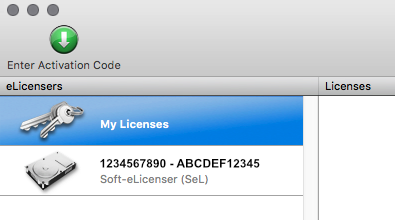 Soft-eLicenser in the eLicenser Control Center
A new windows opens.
Enter the number of the

new (!)

Soft-eLicenser which has been created on your new system..


The Soft-eLicenser number has a 20 digit number (in two groups of 10 digits) and is displayed by the eLicenser Control Center, which can be found under 'Program Files' (Windows) or 'Applications' (Mac OS X) on your computer. The Soft-eLicenser number can be copied to the clipboard via the eLicenser Control Center menu 'Registration'. In this way, it can easily be pasted* in your MySteinberg account.
In case the eLicenser Control Center does not show a Soft-eLicenser, please have a look here: Soft-eLicenser is missing/Soft-eLicenser is not unique

Click on [Reactivate] at the bottom of the Reactivation page.
The new activation code will be displayed and also be sent to you by mail.
In case the Soft-eLicenser you've selected for reactivation contains several licenses, you receive multiple activation codes - one code per license.
Write down or copy* the new activation code.
Switch to the eLicenser Control Center on your computer and click and click on the green 'Enter Activation Code' button.
Enter or paste* the new activation code.
Click on [Continue] and finally on [Download license], to complete the activation.
If you have received multiple activation codes, repeat the license download with each remaining activation code after clicking on 'Enter Activation Code'.
Done! The new installation is now permanently activated on your system. The registration with your MySteinberg account is done automatically.
*Copy: First, select the activation code by dragging the mouse over it while pressing the left mouse button.
Press Ctrl + C (Windows) or cmd + C (Mac) on the keyboard to copy the code to the clipboard.
*Paste: Click in the input field and press Ctrl + V (Windows) or cmd + V (Mac) on the keyboard.
Glossary
Activation code
An unused activation code is equal to a not yet used software license. Newly purchased Steinberg software always comes with an activation code - online by email or inside the product box. The corresponding license can be downloaded to activate an installation by entering the activation code in the eLicenser Control Center. In general, activation codes can only be used once.

eLicenser Control Center
The eLicenser Control Center is a license management utility. It will be installed along with any software that stores its license in a Soft- or USB-eLicenser. The eLicenser Control Center can be accessed via 'Program Files' (Windows) or 'Applications' (Mac OS X). Among others, it allows for verifying licenses stored on a Soft-eLicenser and/or connected USB-eLicensers.
MySteinberg
MySteinberg is the name of the customer section on our website. Here you can create your own account and manage your Steinberg hardware and software registrations. If needed, you can also request new activation codes via the 'Reactivation' process in MySteinberg.

Soft-eLicenser
A Soft-eLicenser is a virtual license container on hard disk. In other words, it is a locally stored file that holds license information. Licenses stored in a Soft-eLicenser are bound to a specific computer.

USB-eLicenser
An USB-eLicenser is a USB key (dongle, key) on which licenses can be stored independently from a specific computer. Licenses on an USB-eLicenser are not affected by, for example, reinstalling the operating system and allow for using the licensed software on mutliple computers.