You may experience that Cubase/Nuendo complains about content data which cannot be loaded by displaying this message after the application has been started: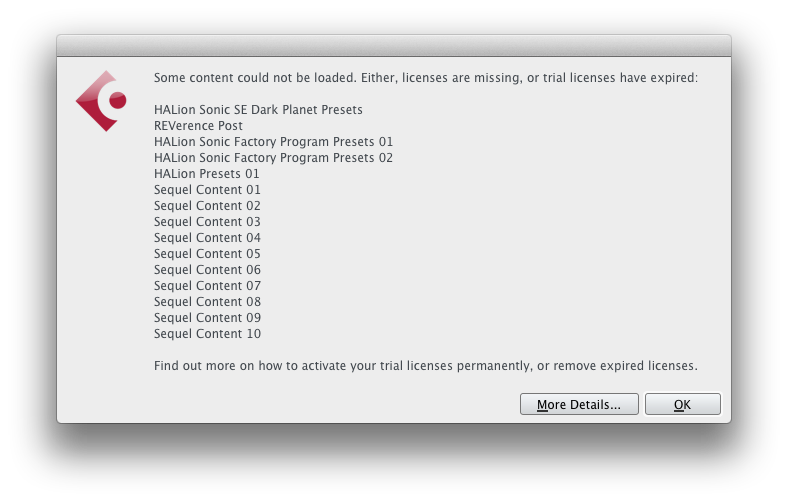 The most probable reason for this message is that content data installed on your system requires a license which is not present on your system because:
Required USB-eLicensers are not connected to your system

Soft-eLicenser licenses are not present in your system (e.g. you have not activated a license for a just recently installed product with its content)

Licenses of trial products have expired (after the trial period has expired the content data is still available on your system)

You should either activate the required content license permanently (e.g. by buying the product from the Steinberg Online Shop)

Or you need to remove the trial products with their content from your system.
Removing trial products from your system:
On PC Windows systems please un-install trial products, thus removing their content data from your system. Use the dedicated functions in Windows for this (Control Panel > Programs & Features etc.)
On Mac OS X systems there are no un-install-programs available. To remove offending content, you need to manually remove the "VST Sound" files related to the trial products from this folder:
"Your System Disc"/Library/Application Support/Steinberg/Content. Look for the product name contained in the filename and remove the corresponding VST Sound files.
Usually, the naming of the affected file helps to identify them easily. If however the files in question are not clearly named, we recommend to move them to a different location first of all to see if everything works as expected. These files can be deleted at a later point then.