In case a license download via the eLicenser Control Center fails due to an already used activation code, the following error message pops up: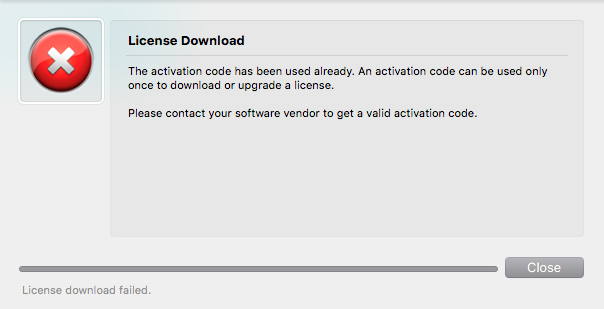 As the error message says, activation codes can only be used once for downloading or upgrading a license. If you actually need a new activation code and how to request it depends on the type of license resp. its location.
If you've already used your activation code, the license should be stored on an USB-eLicenser (dongle, key) or in a Soft-eLicenser (virtual license container on hard disk).
If you've already stored the license on an USB-eLicenser, simply connect it after the licensed software has been installed. In case the USB-eLicenser or the license is not being recognized, please follow the steps in this USB-eLicenser troubleshooting article.
If the license had been stored in a Soft-eLicenser (on the hard disk), please note the instructions on software activation & reactivation.
If you've received a product box that is not shrink-wrapped, the activation code actually might have been used already. In this case, please contact our technical support. If you prefer to call our support team, please mind that you'll be asked to provide us with the proof of purchase and the already used activation code. If you contact us by email or support request form in your MySteinberg account, please name the activation code, add as many details as possible and attach the proof of purchase.